Elevate Your Career at Anhisa LLC: WE ARE HIRING – ASSOCIATE
Dreaming of joining a progressive law firm in Vietnam? Want to be a part of a team that makes real change while ensuring personal growth? Look no further than Anhisa LLC, which is now hiring for its Ha Noi and Ho Chi Minh offices.
Offices
– Hanoi Office: 8th Floor, Tung Shing Building, No.2 Ngo Quyen Street, Ly Thai To Ward, Hoan Kiem District, Hanoi City.
– Hochiminh Office: 5th Floor, Victory Tower, 12 Tan Trao Street, Tan Phu Ward, District 7, Ho Chi Minh City;
Why Join the Anhisa Team?
Benefits Aplenty
Premium Healthcare: Our associates are our family. And for those who've been with us for over 12 months, we offer top-tier healthcare benefits.
Competitive Salary: Because quality work deserves superior remuneration.
Compliant with Labor Law: Annual leaves, insurance, and other benefits are strictly according to the Labor Law.
Dynamic Work Atmosphere: Feel the energy in a professional setting that's also friendly and cooperative. That's the Anhisa way.
Job Role and Responsibilities
– Provide legal advisory and solutions to clients (foreign 95%) and Vietnamese (5%) clients of the firm, notably in the laws of aviation, corporate, commerce, alternative dispute resolution and maritime;
– Supervise, train and directly manage junior colleagues to ensure projects are delivered in a timely and efficient manner;
– Conduct direct meetings with clients and other third parties as assigned by the partner and senior associates of the firm;
– Draft and/or review legal opinions, proposals of assistance, contracts and other documents for clients and internal needs;
– Conduct research and analysis of legal information and documents;
– Provide legal advice;
– Meet, assess clients and prepare clients' files;
– Participate in file reviewing and briefing sessions to prepare clients notably for immigration interviews;
– Participate in ad hoc creative projects related to the law firm's development;
– And others as discussed during the interview.
JOB REQUIREMENTS
– Can-do attitude;
– Full working proficiency in written and spoken English;
– Good at legal analysis and research skills;
– Ability to work independently and as a team;
– Having a long-term commitment;
– Ability to work both independently and in a team and with tight deadlines;
– Working time: from Monday to Friday, 8 hours/day;
Taking the Next Step
Application Process
Found your calling? Send over your CV to office@anhisa.com, following the format: [Associate/Senior associate] – [Full Name].
– Please let us know the following information in cover letter:
How you know about our offer;
What is your desired total salary/month;
When can you work if you are qualified;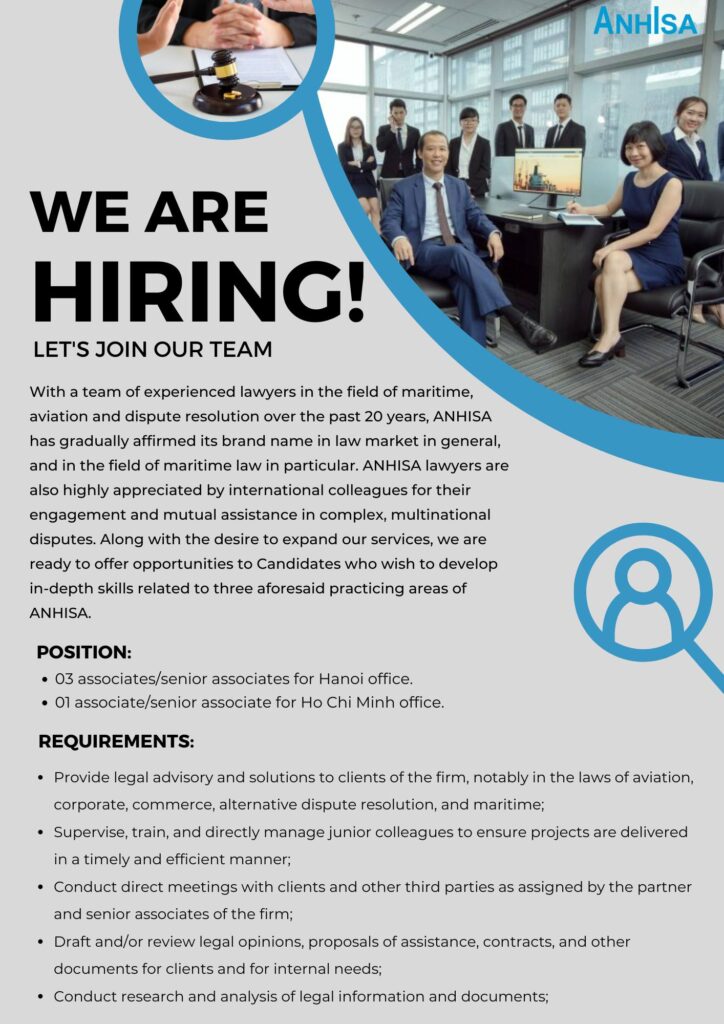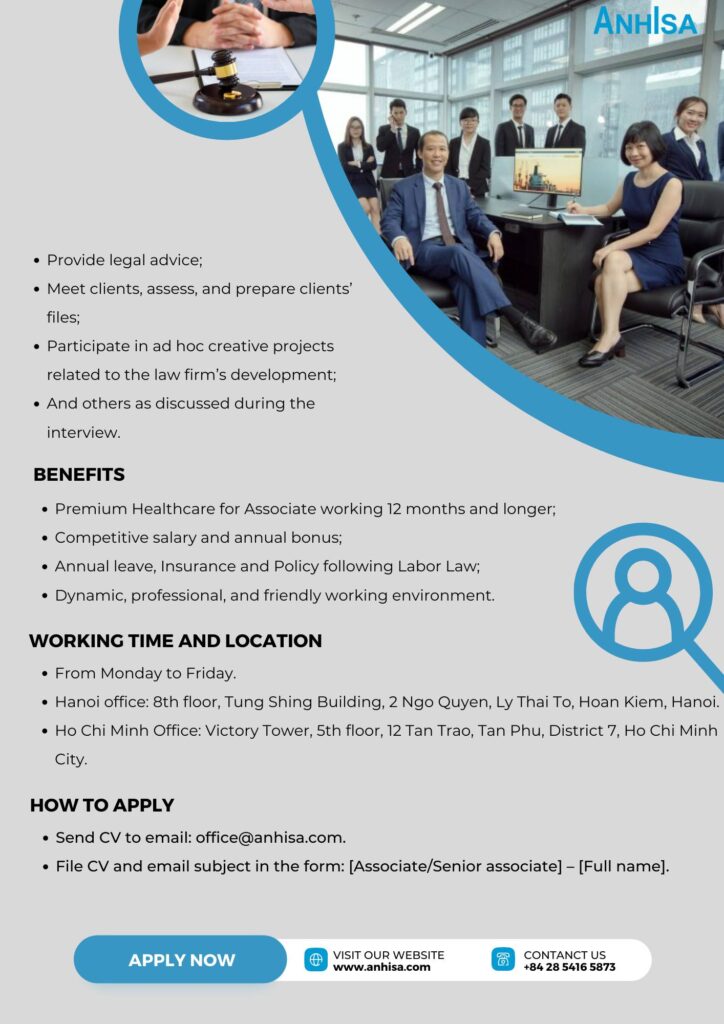 Welcome to ANHISA!