Anhisa LLC is pleased to announce that our Managing Partner has been selected as one of the "Vietnam's Top 100 Lawyers in 2021" published by Asia Business Law Journal 2022. Being a Vietnamese qualified lawyer and barrister having extensive professional experience in more than 22 years, Mr. Dang Viet Anh has handled cases in various sectors such as commercial, aviation and shipping, insurance, reinsurance, marine, international trade, and all forms of dispute resolutions from the court to ADR methods. Therefore, this recognition is totally worth his dedication and effort.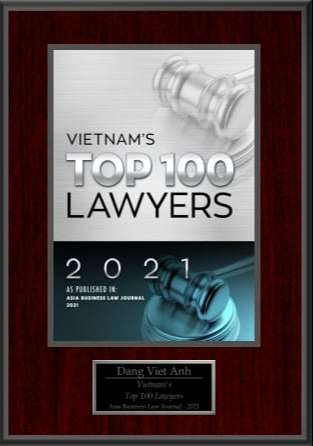 All of the lawyers named on the list are excellent lawyers nominated by internal and external advisors and the list is based on extensive research. With a "flexible and realistic approach", lawyer Dang Viet Anh is often recommended by underwriters, shipowners, banks, and parties who need commercial and practical solutions for their troubles in cross-border deals. As you can see in the link below, it is our great honor when our Managing Partner is at the top of the list and one of three lawyers having practice areas in shipping and maritime. In a short time, our start-up Company has achieved plenty of notable titles, which results in gradually being one of the leading law firms in Vietnam.
Last but not least, we are extremely grateful to our clients, partners, and colleagues who have always supported and trusted our Managing Partner. Our Company will take this rank as motivation to continue to serve valued clients and improve our legal services.